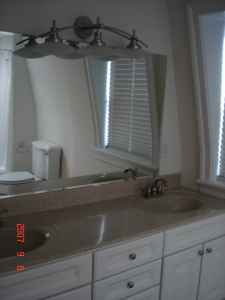 Available Today. Luxury, Renovated, Spacious
$2,500.00
• 2 bedrooms
Washington, DC • 09/14/2007
Renovated Columbia Heights condo for rent, available Sept 1. 2 large bedrooms, 2 bath. Two floors, 1500 square feet in total and is the top unit a fully renovated row house.



Modern kitchen w/ granite countertops, wood cabinets, and stainless steel appliances (including microwave, dishwasher, and fridge). It has a large combo living room/dining area with a gas fireplace. Central heat & air, lots of natural light and windows, sky lights, plus a private covered balcony, high ceilings, oak floors, washer/dryer, jacuzzi tub, new bathrooms, etc. Limited options of some furnishings to stay.



Blocks from new restaurants and stores continue to open in Tivoli area and U Street corridor. U Street/Columbia Heights Metros are also just blocks away. Friendly neighborhood street.



Posted by: OhSoHandy User
Located: Washington, DC
(No map found for this address)